Date/Time
Date(s) - 17/06/2020 - 18/06/2020
8:00 am - 5:30 pm
Location
TBD
Categories
About the Catalyst Conference
The Girls in Tech Catalyst Conference is a can't miss opportunity to get amped about your career and meet the community of people who can help get you where you want to go! No matter who you are.
Catalyst welcomes everyone – from software engineers, product marketers, human resources pros, investors, college students, data scientists, digital marketers, startup founders, and more.
Whether you're just starting out or looking to change careers, Catalyst is for people ready to take the next step in their personal and professional lives.
Speakers
2020 speakers will be announced closer to the conference date.
Catalyst brings keynote speakers such Mayim Bialik, the CBS' The Big Bang Theory star, author and scientist, alongside Dr. Mae Jemison, the first African American woman to go into space, Guy Kawasaki, author and tech evangelist – and other powerful female leaders at Lyft, UNICEF, Stitch Fix, and MORE!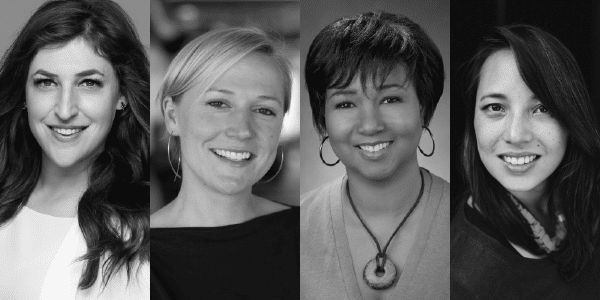 Agenda
Featuring high-energy keynotes, inclusive panel discussions, and breakout sessions with leaders at the forefront of the technology and business sectors, Catalyst offers attendees the opportunity to acquire tactical skills, gain the know-how to navigate career twists and turns, and join a community of role models, mentors, and new friends.
Studies show two of the biggest reasons people drop out of tech careers are the lack of role models and mentors. At Catalyst, we offer both, and then some.
At Catalyst Conference SF, the full agenda includes the below.
Keynotes and Fireside Chats
Skill-building breakout sessions
Networking Happy Hour
Inclusive panels
Speed recruiting and informational interviews with hiring tech companies
AMPLIFY Startup Competition for female founders
and more!
Example of DAY 1 AGENDA
8:00AM – Registration & Networking
8:30AM – Mindfulness Breathing
9:00AM – Introductions & Opening Remarks, Betty Liu, Exec. Vice Chairman, NYSE
9:10AM – The Art and Tech Behind Pixar Films, Danielle Feinberg, Dir. of Photography(Lighting), Pixar
9:30AM – Finding Purpose in Your Work, Meera Bhatia, COO, Stella & Dot
9:50AM – (TBD), Pamela Rice, CEO & Founder, Venus Content Verification. Panelists: Donna Boyer, VP of Product, Stitch Fix. Erica Kochi, Co-Founder, Unicef Innovation. Gail Frederick, VP of Developer Ecosystem, EBay.  Jackie Bavaro, Head of Product Mgmt, Asana.
10:10AM – BREAK
10:30AM – Production Innovation Panel, Moderator: Ahiza Garcia, Writer, CNN Business
11:00AM – (TBD)
11:40AM – (TBD), Tracy Dinunzio, Founder & CEO, Tradesy
12:00PM – Lunch & Speed Interviewing
1:00PM – Artificial Intelligence, Pilar Manchon, VP Artificial Intelligence, Roku
1:20PM – (TBD), Kristin Robertson, VP-Gen Mgr of Autonomous Systems, Boeing
1:40PM – BREAK
2:00PM – Think Like a Startup: Lessons for Women in Tech, Dara Treseder, CMO, Carbon
2:20PM – (TBD), Guy Kawasaki, Chief Evangelist, Canva
3:00PM – BREAK
3:30PM – Plenary Session #1 (TBD)
4:20PM – Plenary Session #2 (TBD)
5:25PM – Closing Remarks
5:30PM – Networking Mixer
7:30PM – End of Day 1
Example of DAY 2 AGENDA
8:00AM – Registration & Networking
8:30AM – Mindfulness Breathing
9:00AM – Introductions & Opening Remarks, Betty Liu, Exec. Vice Chairman, NYSE
9:10AM – Five Mantras for Marketing You: Insights from a Leading CMO, Robin Matlock, CMO, VMware
9:30AM – (TBD), Jody Davids, SVP & Global CIO, PepsiCo
9:50AM – Design & Leadership – Building & Implementing Ethical Design, Katie Dill, VP of Design, Lyft
10:10AM – BREAK
10:25AM – Venture Capital Panel, Moderator: Betty Liu. Panelists: Blair Shane, Partner & CMO, Sequoia Capital. Lu Zhang, Founding & Managing Partner, Fusion Fund. Stacy Bishops, Partner, Scale Venture Partners. Kristina Simmons, Chief of Staff & Investing Partner, Khosla Ventures.
10:55AM – Decisions in Life & Career, Jose Tolosa, Chief Transformation Officer, Viacom
11:15AM – (TBD)
12:15PM – Lunch & Speed Interviewing
1:15PM – (TBD), Sally Gilligan, CIO, Gap, Inc.
1:35PM – (TBD), Rosanna Myers, CEO, Carbon Robotics
1:55PM – Engineering Independence, Christine McKinley, Host of History Channel's "Decoded & Author of Physics for Rock Stars
2:35PM – BREAK
2:50PM – (TBD), Mae Jemison, First African American Woman in Space
3:30PM – BREAK
3:45PM – Plenary Session #1 – (TBD)
4:20PM – Plenary Session #2 – (TBD)
5:00PM – AMPLIFY Pitches
5:25PM – Closing Remarks
5:30PM – End of Day 2