Date/Time
Date(s) - 04/03/2019 - 05/03/2019
9:00 am - 4:00 pm
Location
Galleria
Categories
At the Tech Sales Bootcamp some of the region's top tech sales leaders will talk about the skills they look for in successful sales people, and you'll learn what a career in tech sales might look like for you. We break sales down into three areas: the science, the art and the tools that drive sales in tech.
Here's what we'll cover:
– The sales process
– The value proposition
– Best practices in making first contact
– Structuring your first meeting
– Understanding your prospects' needs through their eyes
– Handling objections
– Closing techniques
– Effective communication skills
– A career in sales
Who is it for?
If you're driven, self-motivated, possess strong communication skills, thrive in a competitive goal-oriented environment and are eager to take on a new challenge, we want you.
How big is the class?
A maximum of 20 participants
—————–
Session Details:
Location: Galleria, 101 Frederick Street West, Kitchener, Ontario N2H 6R2
Monday, March 4, 2019 | 9:00 am – 4:00 pm | Frederick & Weber Boardroom (Mezzanine Level)
Tuesday, March 5, 2019 | 9:00 am – 4:00 pm | Frederick & Weber Boardroom (Mezzanine Level)
Registration fee: $475 (Includes parking)

Facilitated by: The Revenue U
Rod Foster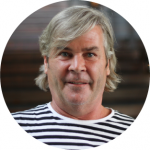 —————–
Questions?
For more information contact the Communitech Academy: academy@communitech.ca
Cancellation policy: 14 days notice is required to obtain a full refund of the $475 registration fee (February 18, 2019, by 5 p.m.)
—————–
We have an awesome community. And we like to show it off. 
Please be advised that photographs and video may be taken at Communitech events for use on Communitech web, print and social properties. We won't sell your photo, but we may share it with media and/or partner organizations. By attending this and any Communitech event, you consent to being photographed and/or filmed, and to your image or likeness being used at Communitech's discretion.
—————–

Construction in the Region
As you may know, there is some construction happening in Downtown Kitchener, so you may hit some traffic getting here.
Please check the latest updates from RideION.ca to help plan your best route.
—————–
Parking Downtown Kitchener
Parking made simple! Parking is available in the underground lot at Galleria, accessible from Scott St., near the corner of Scott and Weber St.